Three Breakout Solutions A Newspaper Can Offer Your Brand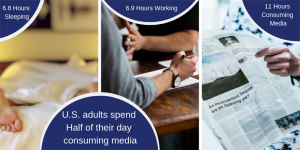 Adults in the US spend nearly half of their average day interacting with media.
As they read, watch and consume in various ways, they are met with a constant barrage of advertising.  This assault can leave the consumer staggered and the brand advertiser at a loss as to how to reach the target audience.
While there is no single solution to this persistent problem, newspapers should represent one part of your response to the ever-increasing static in consumers lives.
Power of the Front Page
Newspapers have always offered substantial reach through their traditional run of paper (ROP) and insert advertising options, but they also provide many front-page solutions that advertisers may not realize are available.  These alternative options offer a strong impact and will push a brand's message through the clutter for a powerful impact.
Spadea
A spadea or spadia (also "spadea fold") is a separately printed, unbound broadsheet that is folded around a newspaper or other periodical, or around one of its sections, appearing as a partial page or flap over the front and back. (Wikipedia Nov 2018)
With a spadea, the advertiser is creating a physical barrier between the reader and the front page of the newspapers.  This barrier requires the reader to interact with the brand message and provides the creative team with ample space to promote the desired message.
Sticky Notes
A sticky note is a small ad affixed to a newspaper's front page, above the fold.  Also known as a "front page post-it."
Sticky notes provide a bright pop on the front page of a newspaper.  Appearing above the fold, these units offer the advantage of targeting (often available by zip code or zone) and the ability to be removed and re-affixed to another surface (desk, fridge, etc.) to keep the message top of mind.
Important Tips
Spadea units are not standardized across newspapers. Don't forget to request mechanical specs for each publication you are buying.
Sticky notes can be printed onsite at many newspapers. This can simplify the ordering process and save on costly shipping charges.
Both spaces have limited availability, so never assume you can place without checking first.
Importance of Frequency
Newspapers across the country offer deeply discounted programs to allow advertisers to reach their target audience regularly and to break out with a powerful ad unit.  Newspapers, from community publications to large metros, offer strip ads that place advertisers in key positions (front page, section front, etc.) and provide a structured option for weekly, bi-weekly, monthly or other recurring campaigns.
Important Tips
Front page and section front strip ads are premium positions that sell out quickly. If possible, lock in your plan in the first quarter to secure inventory.
Not all section fronts offer full color. Be sure to verify before building your ad copy.
Beyond the Banner Options
Traditional advertising space does not always meet the needs of today's content-driven advertisers.  To meet these evolving needs, newspapers and their local online counterparts have launched native advertising programs.  These programs provide advertisers with access to the story feed on their digital properties and advertorial placement within their print editions.
Print
Native advertising in print is often referred to as "Advertorial."  These ads recreate the look and feel of an organic news article but provide the brand the opportunity to connect with the consumer outside a traditional print ad unit.  Native in print needs to be marked ("slugged" in the world of print) as an advertorial or paid content.
Digital
In the digital space, this option is often referred to as native, sponsored or promoted content.  The content can take the form of text, pictures, video or infographics (depending on the publication), enabling the creative team to tackle the promotion in new and exciting ways.
With either digital or print, it is vital to keep in mind the value of the content to the reader.  Successful native campaigns provide useful information to the reader and are not simple promotions of the brand.
Important Tips
If you do not have a writer available, many newspapers will provide writing assistance at no additional charge when placing native advertising.
Native placement requires editorial approval. Prepare for a two-week timeline for campaign approval.
Newspapers and local digital provide valuable options to advertisers.  If you need assistance with your media placement into any newspaper property anywhere in the country, contact MANSI Media.  Our team of skilled and trusted media buyers can help you with a single phone call (717-703-3030) or email (Help@MANSIMedia.com).
---