CTV and OTT advertising continue to grow: Are you in the know?
By Morgan Edge, Digital Media Manager
In 2022, a whopping 94% of U.S. households were reachable by connected TV (CTV) programmatic advertising.1 This emerging medium continues to drive increased revenue for advertisers.
With platforms like Roku, Hulu, Disney+, Netflix, and YouTube growing in popularity, brands must understand how to best incorporate over-the-top, or OTT advertising, into their marketing campaigns to connect with millions of consumers.
What are CTV and OTT?
CTV is a device that allows viewers to watch streaming video content on a screen connected to the internet. This includes all types of smart TVs and streaming devices like gaming consoles or set-top boxes. Some of the most popular examples include Roku, Apple TV, Fire TV, and Google Chromecast for devices, and Xbox, PlayStation, or Nintendo Switch for consoles.
OTT represents any content that is delivered directly to viewers via a streaming video service over the internet instead of through traditional distributors such as broadcasters and cable providers. OTT content is watched on a smartphone, laptop, tablet, or CTV.
OTT ads, also known as streaming TV ads, are delivered to viewers within this video content. They can be shown on multiple devices, including TVs, tablets, and smartphones.
Popular platforms for OTT ads include Hulu, HBO Max, ESPN, Disney+, Showtime, YouTube, and, most recently, Netflix.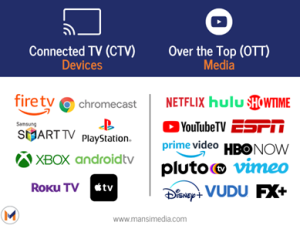 A major distinction between OTT and CTV is the format of advertising. While OTT ads primarily consist of preroll and video ads shown while users watch content, CTV advertising is placed alongside apps and shown on the viewer's connected device.
Why consider OTT in your 2023 advertising strategy?
It's simple. OTT delivers a high return on your advertising dollars by increasing brand awareness, delivering quick results, and adapting to in-the-moment changes based on your campaign's current performance.
CTV engages your audience when they're ready to buy
CTV viewers are 42% more likely to buy a product in comparison to traditional TV viewers.²
Consumers of all ages engage with CTV.³

Share of connected television viewers in the United States in 2022, by age group:

62% of adults 18-34.
54% of adults 35-54.
24% of adults 55 plus.

OTT advertising allows you to target audiences based on demographics, location, viewing history, and preferences.
Nearly six out of 10 CTV users in the U.S. find CTV ads to be more relevant than ads on linear television.4
CTV reaches 'cord-cutters' and 'cord-nevers'
As the prevalence of CTV continues to rise, a new demographic of viewers known as "cord-nevers" has emerged. This audience group, which has never had cable or a satellite TV subscription, makes up 44% of all adults in the U.S. Sixty-one percent of these viewers are between the ages of 18 and 29.5
Additionally, "cord-cutters," or those who are canceling their cable subscriptions in favor of CTV, were estimated to number nearly 4.9 million people in 2022 alone.5
Adding CTV advertising to 2023 plans allows advertisers to utilize OTT to reach this audience, which would otherwise never see the TV ad.
CTV ad spending continues to grow in 2023
While this type of advertising may be considered fairly new compared to other forms of traditional TV advertising, CTV and OTT are here to stay. Just look at the growth of ad spending dedicated to this medium:
In 2023, total CTV ad spending on connected devices will likely reach $26 billion (compared to $21 billion in 2021).6
By the end of 2023, OTT video ad spending is expected to reach $10 billion, making up 3.4% of all digital ad spend and 10.2% of total video spending.6
CTV advertising budgets look to edge out linear TV in 2024, having climbed from one-tenth of TV ad spending to exactly half.6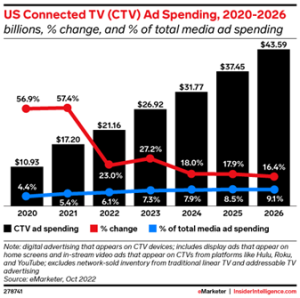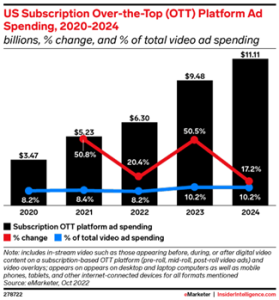 Each year, advertiser investment in CTV and OTT is projected to continue to increase.
Get started with CTV and OTT
Clearly, OTT advertising is effective. But how do you get started? Begin by following these steps:
1. Know your audience. Unlike traditional broadcast ads, OTT ads are much more personalized to the streamers. These ads allow for A/B testing, specific targeting, and tailored messaging for your unique audience.
2. Concentrate on frequency. Because OTT ads have a high level of flexibility when it comes to targeting, take time to test out which audiences work best. Test frequently and measure all outcomes. Determine which copy, creative and content work best and then adjust accordingly.
3. Use the data to your advantage. Now more than ever, data-driven marketing grants advertisers the ability to connect their ad spend to campaign results. Compare the results from your TV and CTV campaigns to gauge the effectiveness and success of your ads. One big draw to CTV is the ability to precisely measure your efforts.
4. Lean into new technologies. Although streaming has been around for quite some time, the landscape continues to change on a weekly basis. To best reach your audience across a variety of platforms, it is wise to lean into new technologies that emerge in the CTV and OTT worlds.
Whether you're looking to meet or expand your customer base this year, OTT and CTV connect you with the TV audiences that have made the switch from linear programming to digital streaming. Make sure your company remains agile and adaptable with your advertising plans as this migration continues.
MANSI Media can assist you with all of your CTV and OTT advertising needs. Please contact us today to get started.
Sources: 1Pixalate; 2Unruly; 3Statista; 4DeepIntent; 5Zippia; 6Insider Intelligence
---