The questions to ask before your next newspaper advertising campaign
Newspaper advertising has never been the most accessible medium to purchase.  From category specific rates to codified language to a wide variety of options in high-population markets, a media buyer has a steep climb before they reach the purchase plateau.  While these problems may seem daunting, being prepared to share some specific details and asking the right questions can help ensure you have a successful campaign.  With over 100 years of combined newspaper media buying experience, the team at MANSI Media has assembled a field guide for those purchasing newspaper advertising.
What should you be prepared to share?
To receive the best possible rate for your next campaign, consider sharing the following information.
Client Name
Providing a client name may seem obvious, but many advertisers and advertising agencies will withhold the name of a client.  This seemingly innocuous action can lead to higher rates and a slower response from newspaper advertising representatives.  This slowdown is due to the historic nature of newspaper rates.
In the past, newspaper ad rates were dependent upon the category of business.  A financial client looking to run a full-page, full-color ad would pay a different price than a non-profit organization seeking to run the same advertisement.  Also, newspapers favor repeat advertisers.  If a client has run during the current year, they are often eligible for a discounted rate.
Without a client name, a buyer is leaving potential savings on the table.
Budget
While a budget does not have to be exact, sharing a rough estimate can secure a stronger offer and reduce time during the negotiation process.  With a budget in hand, a newspapers sales representative can offer a combination deal that combines their most potent products:
Run of Paper (ROP) advertising
Local Digital Display advertising
Seasonal products
Without a budget, a sales rep will often have to resort to open, less desirable rates.
Campaign Goal
If advertising is purchased, there should be a goal associated with its purchase.  Those objectives can range from broad goals (branding, top of mind awareness, increased recognition) to specific goals (drive "x" sales, increase voter turnout, announce new location), but by having them in hand, newspaper campaigns can be tailored to meet the overall goal.  For example, building top of mind awareness would best be served by a series of strip ads running section front over the year, with the inclusion of section sponsorships on the digital platform.    While the announcement of a grand opening would benefit from a targeted single-sheet insert and a homepage takeover.
Without a clear goal, a buyer will often receive a bland, cookie-cutter proposal that does not deliver strong value.
With this information in hand, you are prepared to reach out to a newspaper and start your request.
What should you ask?
In any buying process, it is critical to be fully informed about the product or service you are purchasing.  After you have prepared your advertising partner with information about your company or organization, it is time to ask them some questions. In the case of newspapers, these questions revolve around a few key issues:
Reach
The news media industry reaches a vast number of people, with over 136 million U.S. adults engaging with their products, either in print or online, regularly.  This broad audience reflected in the local market by a combination of a newspaper print and digital readership.
Newspaper Readers are upscale diners: 64% of all U.S. adults who visited an upscale restaurant in the past 30 days are news media readers.
Newspaper Readers use tax preparation services: 58% of all U.S. adults who used a tax preparation service for last year's taxes are news media readers.
Newspaper Readers are car shoppers: 59% of all U.S. adults who plan to purchase a car, truck, or SUV in the next year are news media readers.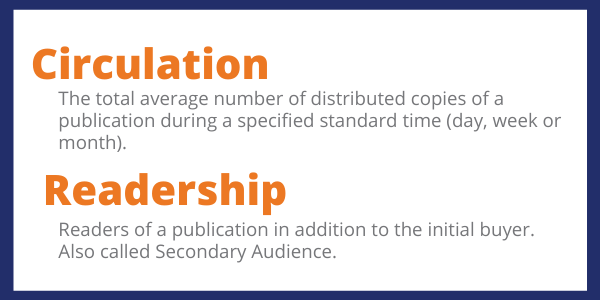 Question:  How many people do you reach?
Ask your newspaper for their print circulation, visitors on their digital platform, and their combined readership.  This number will showcase the value or lack of within the market.
Audience
The news media audience is educated and affluent.  With a median income over $60,000 and an average of 14-years of formal schooling, the news media reader outpaces the average U.S. adult in both the wealth and education category.
Newspapers offer tools to dissect further and breakdown their audience to reach an intended target.
Targeting Tools
ROP Section Targeting
Geographically Targeted Inserts
Total Market Coverage (TMC) Products
Specialty Print Products
Behaviorally and Geographically Targeted Digital Banners
Special Section Options
For example, a newly opened gym may want to reach community members with disposable income within 10-miles of their location.  To meet the advertiser's need, a local newspaper could provide printed flyers, targeted by zip code and inserted into the paper, along with banners on the news media company's digital platform, targeted by radius and delivered to an audience interested in health.
Question:  Can you target my audience?
Ask your newspaper for their recommendation on how best to reach your audience and deliver an effective advertising campaign.
Action
While reaching your intended audience is essential, it is equally important to drive engagement.  That action can range from visiting a store, telling a friend about an offer, clipping a coupon, purchasing a product, or other activities, but it will be impossible to complete your goal without the audience completing some action.
For example, nine out of 10 news media readers took action as a result of reading or looking at a pre-printed insert that was included in their newspapers.
58% visited a store, dealer or other location
57% clipped coupons to use at the store
41% purchased a product advertised
33% saved the insert for future reference
Question:  How do I best drive action with my advertising campaign?
Ask your newspaper which of their products will best deliver the results you are looking to achieve.
Production
The last and least exciting part of the question process is the mechanical aspect of the medium.
When buying a print product, a buyer needs to ask the following questions?
Question:  What is the size of the proposed newspaper ad? 
This information may be delivered in a column by inch format.  Newspaper ads are often spaced out in 5 to 6 columns per page and these columns determine the width, with the depth of the ad established in inches.  For example, a newspaper ad could have dimensions of 3 columns by 5 inches.
Question:  What day of the week will my newspaper ad run?
Newspapers fall into two primary categories, dailies and weeklies.  A daily will typically run Monday – Sunday, while a weekly will only run 1-day per week.  An ad purchased in a printed newspaper is scheduled to run a single day, one of the days the daily runs or the only day the weekly runs.
Question:  Will my newspaper ad run in color?
Twenty years ago, this would be a fundamental question, but advancements in newspaper printing now allow for color on every page of a newspaper.  The question remains essential, as print advertising generally has an upcharge for color ads.  If color (sometimes referred to as 4C or Full Color) is not specified, it may not be included.
Question:  When is my deadline?
While fictional newsrooms may yell, "Stop the Presses," and have results, in the hustle and bustle of the real world, this is not an option.  To ensure your ad runs on the scheduled day, it is important to have creative delivered to the newspaper in a timely fashion.  Most newspaper deadlines are 2-3 business days before the planned launch.
When buying a local digital product, a buyer needs to ask the following questions?
Question:  Where will my ad be delivered?
The internet is a vast space, with countless outlets for advertising.  Not all of those outlets are created equal.  For example, ads on premium news media properties receive 50% more engagement than other delivery locations.  To ensure your ad is delivered on a local news media property, ask the question and ensure where your ad will be placed.
Question: When will I receive reporting?
One of the greatest strengths of digital advertising is reporting.  But that strength is only actualized when it is delivered.  Be sure to ask when reporting will be provided and on what schedule.
Question:  How many times will my ad be shown?
Digital advertising is generally sold on a cost per thousand (CPM) basis and that model comes with a guarantee of delivery.  Be sure to ask the exact volume of impressions you are guaranteed and then check your reporting to ensure you received that number.
Simplify the Process
Save time and energy on your next newspaper buy by contacting MANSI Media.  Our team of skilled media buyers specializes in newspaper advertising and local online placement.  We can ask the questions on your behalf and ensure your campaign goes flawlessly.  Contact our team and receive a free market analysis by emailing Help@MANSIMedia.com.
---