Quality Digital Environments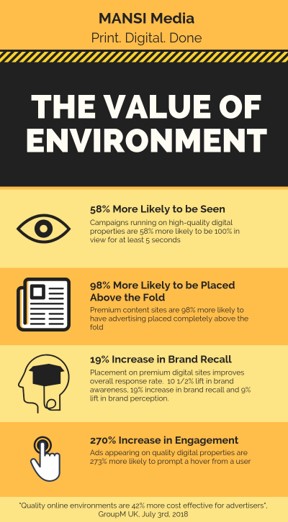 Television advertisers don't want their ad sandwiched between a public access show and a late rerun of the 1989 hit "Weekend at Bernie's."  Billboard advertisers don't want their message hidden behind a run-down factory. Radio advertisers don't want to be posted at 3 a.m.
Why?  Because advertisers know that the environment, be it time, location or content, surrounding an ad has an impact on how that ad is received.  In the digital space, this idea has been long ignored.
Of course, digital ads are running in a brand safe environment, but brand safe does not directly equate with premium inventory.   The average site purchased through a programmatic buy can still include conspiracy theories, cat videos, unboxing walkthroughs, plumbing how-tos, and other poorly-created user content.  These non-premium sites offer less support to a brand.
Premium sites offer regularly updated content that has been created by professionals.  These sites build a relationship with their readers and drive frequent return visits.  A great example of premium content digital properties are those created by newspapers.  With coverage delivered daily and content generated by professional journalists, their digital websites and apps provide a perfect location for any advertiser concerned about the environment that will surround their advertising.
Does environment have an impact on advertising?
A recent study from GroupM UK and Newsworks' showcased the difference a change in the online environment can make.  The study offered proof from industry experts that environment does have a substantive impact on advertising.
For example, shifting to a superior digital environment can result in the following:
A higher percentage of ads in view
More visible placement on the page
A lift in brand awareness
An increase in recommendation intent
How to place on quality digital properties?
Uncovering and placing on quality digital properties can be challenging at times and can raise difficult questions for a media buyer:
How do you find premium websites?
Unfortunately, there is no easy way to filter your search to only premium content websites.  A poorly crafted website, filled with old and unsubstantiated content, can still rank high on search results through the careful deployment of a search engine optimization strategy.
To uncover quality sites, start with those that directly serve the target community.  For example, if a brand is targeting Madison, WI, you could begin with Madison.com and NFL.com.  Both offer trusted content (news, entertainment, sports) with information that is relevant to the target audience.
Who do you contact?
Be prepared to deal with multiple contacts to complete your project.  While some digital properties have shared ownership, for example, Madison.com is owned by Lee Enterprises which represents over 40 locally focused websites, many require a personal phone call or email.
Once you have compiled a list of targeted sites, search the footers of those pages for contact information.  Many will list "advertising" as a contact that will provide the first step in your outreach.
What price should I pay?
Accept early on that quality content will cost more than programmatic ads.  The average rate for a banner ad on a premium content site can range from $8 to $15, sometimes higher if the property targets an exclusive audience (ex. SeafoodNews.com to connect with stakeholders in the seafood industry).
For this higher cost, you can expect to see a better return on your investment through greater visibility, higher response rates and an increase in brand metrics.
Are you looking to simplify the process of placement onto premium digital properties?  Make a single call to MANSI Media.  Our team has the experience and contacts to bring your brand to premium content sites across the United States.  With one call (717-703-3030) or email (help@MANSIMedia.com), you can find the answers to all the questions above and have an expert in your corner.  Our team, with 30 years of placement experience, can help check the next project off your list.
---