Philadelphia Power Buy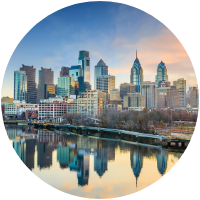 The city of brotherly love, Philadelphia, is known for its cheesesteaks, its rowdy sports fans and its cultural heritage.  Advertisers can reach this profitable audience through newspapers, with more than 4.5 million residents reading a newspaper in print or digital regularly.
Newspaper readers in Philadelphia….
Are in the market for daycare. Newspaper readers are 34% more likely than the average resident to purchase this service in the next 12 months.
Enjoy a good farmers market, with almost a half million newspaper readers visiting one in the past seven days.
Are drinking Pabst Blue Ribbon beer. Newspaper readers are 22% likely to drink a Pabst than the average Philadelphian.
Need to find a good mechanic. Newspaper readers are 34% more likely to have visited the garage more than five times in the past year.
Are a prime target for an ophthalmologist, with more than 1.2 million newspaper readers visiting one in the past 12 months.
If you are a media buyer looking to reach the newspaper audience in Philadelphia, consider running in one of the following newspapers:
Philadelphia Inquirer
Philadelphia Daily News
Bucks County Courier Times
The Intelligencer (Doylestown)
Metro Philadelphia
Philadelphia Tribune
News Journal (Wilmington)
Allentown Morning Call
Reading Eagle
Philadelphia Gay News
The Press of Atlantic City
Al Dia
The Reporter
Norristown Times Herald
The Express-Times
Delaware County Daily Times
Courier-Post
The Times
The Trentonian
South Jersey Times
Delaware State News
The Mercury
Bucks County Herald
Philadelphia Weekly
Scoop USA
South Philly Review
Phoenix Reporter & Item
Northeast Times
The News & Press of Delaware County
Chestnut Hill Local
Find Your Audience
It has never been easier to reach your audience through a newspaper.  With the help of the MANSI Media team, you can find the right paper, in the right market, to reach the right customers.  Call or email us today to start improving your marketing plans with precision targeting and flawless execution on your next campaign.  Email Help@MANSIMedia.com today to simplify your next newspaper buy.